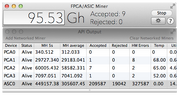 MacMiner is a cryptocoin miner for Mac and can be used for Dogecoin mining. Get started in the view menu - set up your pools for scrypt/ LTC
bfgminer for GPU
Edit
Get the fastest speeds from your GPU with bfgminer. Make sure to check 'enable GPU mining' and 'use scrypt' in the miner settings panel on the BFG Miner window.
minerd/cpuminer
Edit
minderd used by CPU Miner window is the fastest CPU miner for mac
Ad blocker interference detected!
Wikia is a free-to-use site that makes money from advertising. We have a modified experience for viewers using ad blockers

Wikia is not accessible if you've made further modifications. Remove the custom ad blocker rule(s) and the page will load as expected.