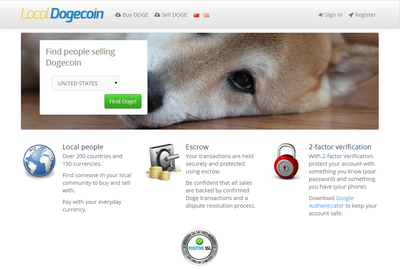 LocalDogecoin.comis the first local market for Dogecoin. It offers users a convenient way to aquire doge by the method of their choice, free of charge. The market serves over 200 countries and 150 currencies around the globe.
The market was originally created under the name Doge-R-US, however it met much resistance from the community to change it's name for fear of copyright infringement. Thus, DogeRUS was rebrandedand LocalDogecoin was created. 
Escrow Service
Edit
One of the major conveniences that LocalDogecoin offers is it's escrow service. They serve as a third party between the buyer and seller while the transaction is being made. Moreover, unless you have their Speed Trader option enabled (1% fee), they provide the escrow service for free. 
Feedback System
Edit
On each seller there is a trust rating that averages the feedback reported by the buyer. Along side trade volume, number of sales, and average trade values, written comments by the buyer are also provided.