The Doge Coin community has a strong charity ethic. The maxim 'No shibe left behind' is oft repeated in the community. As well as charity, many funraising events have been for publicity or just for fun!
Many of the Doge Coin funraising charity events were organised by the Doge Coin Foundation.
Sochi Olympis 2014 Jamaican Bobsleigh Team
Edit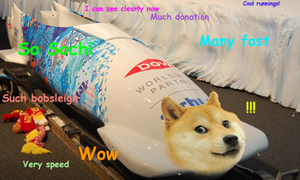 On the 19th of January, 2014 it was announced that the Jamaican bobsleight team had qualified for the Sochi winter olympics. The team, however, announced that despite their own funds they could not afford to go to the Sochi winter olympics. They setup a paypal account to receive donations after people offered to help.
Liam Butler, a member of the Doge Coin Foundation had seen the 1993 film Cool Runnings which showed the epic story of the Jaimaican bobsleigh team's success in the 1988 olympics. Inspired by this, he setup an initiative to raise Doge Coin donations for the Jamaican athelets.
The initiative was a huge success, soon raising over $25,000 worth of Doge Coins for the cause - this was the largest single donation.
Section heading
Edit
Write the second section of your page here.