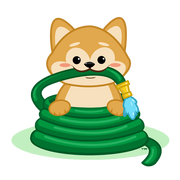 Doge4water is a Dogecoin Foundation campaign to raise 40 million Doges(approximately 21000 US$ as of 1/1/2014) by "World Water Day" Saturday March 22, 2014.
Held in support of World Water Day on 22nd March, the Dogecoin Foundation's latest project finds it teaming up with New York-based nonprofit charity: water to support a remote region in drought-stricken eastern Kenya.
The Fund raising was organized by Eric nakagawa founder of doge4water.org
Water crisis in kenya
Edit
Kenya is a prized destination for international visitors, but it's also a chronically water-scarce country. A growing population and climate change are contributing to worsening conditions. Measured in cubic meters per person per year, it's projected to have less than a quarter of the water its people need by 2025.
When surface water is available, like the Tana River County, communities still battle against crocodile attacks and contamination. So we're working with our partners to protect sources and build wells, giving people life- saving access to clean water.
This program is a continuation of our work with Action Against Hunger (ACF) in Tana River County. We'll also be expanding water, hygiene and sanitation programs into the West Pokot co
unty of Kenya to reduce the rates of malnutrition among children.
For this program, ACF will construct new hand-dug wells and rehabilitate broken (non-charity: water) projects. Hand-dug wells are possible in areas with a high water table. Under the supervision of skilled engineers and masons, the community typically contributes time and labor, sometimes digging for up to three months to reach water.
.
An anonymous $11,000 Donation
Edit
The tweet, by an anonymous person who goes by @savethemhood, helped to push the Doge4Water to well past its 40 million Dogecoin  goal. The charity had hoped to reach it by March 22
nd
, which is World Water Day, and it met that target with a week to spare. The anonymous person wished to stay anonymous.